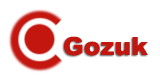 Contact:
Gozuk

+86-13928480246
Website:
www.gozuk.com
info@gozuk.com
Address:
Building 2 Xuwu Gongle Xixiang, Bao'an District, Shen zhen, Guang dong China, 518000
In Category:
Electrical Equipment & Supplies
>
Power Supplies
>
Inverters & Converters
Main Products:
Motor drives, variable frequency drive, frequency inverter, soft starter
Company/Service Details:
Gozuk masters the leading synchronization, asynchronization current vector control technology and torque control technology. The electric motor drives cover 115V, 220V, 380V, 525V, 660V voltage level with 0.2kW - 630kWW power range, which are widely used in electric power, metallurgy, petroleum and chemical, mining, machine tool, paper-making, elevator, lifting and other industries.
With "Market-oriented, Customer-centric" business philosophy, Gozuk provides high cost performance soft starters & variable frequency drive and service to customers, make the customers more competitive. The sales and service network is nationwide in domestic market. And our products have also been exported to more than 30 countries all over the world.
Gozuk adheres to the enterprise core value of "Quality, Innovation, Integrity, Win-Win", dedicated to be the world leading supplier of soft starters & frequency inverter drive, and services in the electric drive, industrial automation control fields, and would like to achieve customer, staff and enterprise values growing together.
Gozuk 2000 series variable frequency drive is launched based on the perfect combination of years of experience and advanced drive technology. According to the perfect understanding to customers' requirements, G2000 integrates with sensorless vector control, V/f control, torque control and soft start functions, widely applied in pump & fan, and the applications which require high speed control accuracy, rapid torque response and high performance at low frequency.